HP OfficeJet 200 Wireless Network A4 Colour Mobile Inkjet Printer
To print a page costs from €3.7 cent Black /€9.4 cent Colour a copy
To print a ream of paper toner used will cost approx €18.29 Black /€47.15 Colour exVat
To print a box of paper will cost approx €91.46 Black /€235.74 Colour exVat @ 5% coverage
HP OfficeJet 200 in More Detail
The HP OfficeJet 200 is a compact and portable colour inkjet printer that allows you to print documents, wherever you are. It is the perfect tool for the travelling business professional.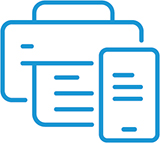 Makes printing easy
The OfficeJet 200 lets you easily print documents from your laptop, tablet or smartphone without the need to connect to a network. The printer connects to devices wirelessly using HP Auto Wireless Connect. It's very simple to set up, and it's compatible with both Mac and PC.
Easily portable
Small enough to fit easily in your bag, you can take the printer with you whenever you're on the move and need convenient printing at your fingertips. And once you want to use it, it's quick and simple to take out the box and start printing.
Charges quickly
Plug the printer into a power source to fully charge in 90 minutes using HP Fast Charge technology. When you're already on the move, it's easy to charge the printer from your car, office, or the airport using the USB charger. And with a super long-lasting battery, you won't need to charge too often.
Economical printing
Not only will you save money by choosing a reliable model like the HP OfficeJet 200, you will also benefit from using Dynamo ink cartridges, which have the highest page yield of any printer in their class. But there's no compromise on speed – the first page will print in as fast as 12 seconds. When you're not using the printer, it automatically turns itself off to save energy.
The professional choice
Providing not just high-quality printing, the OfficeJet 200 is also exceptionally quiet – so there's no noisy interruptions during that important pitch meeting. In addition, the simple, elegant design will look great in any work space and the large control panel means it's easy to choose your function.